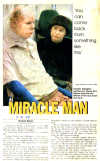 Miracle Man

'You can come back from something like this'
By Chuck Nowlen
Published March 31, 1999
Copyright 1999, The Capital Times
Spring is in bloom, a full moon is in the night sky, and Eric Nelson has a new wedding date with his fiancée Heather Gallagher.
Is there any better proof that love conquers all?
Neither Nelson nor Gallagher is the same -- outwardly -- since 20-year-old Salim Amara set them on fire on a Madison Metro bus last April 19, along with two other passengers, the driver and Amara himself. The 30-year-old Nelson was the most severely injured of all the victims, suffering third-degree burns on 95 percent of his body that required about 40 skin grafts and countless operations and left him in a coma for eight months.
Almost a year later, Nelson is still gaunt and profoundly disfigured, wrapped neck-to-toe in a protective covering, speaking only in short, breathless sentences and unable to stand without help.
On Thursday, Nelson will become the last of the bus fire victims to leave University Hospital. In an interview with The Capital Times Wednesday evening, he left no doubt that his love for Gallagher and his sense of humor, at least, are still very much intact.
"This has been a terrific weight loss program," Nelson quipped, 50 pounds lighter than a year ago and with the 25-year-old Gallagher at his side, as she has been every day since she was well enough to get out of her own hospital bed.
"But I wouldn't really recommend it."
His words belie his ordeal: searing pain still tempered only by powerful drugs, four hours a day of agonizingly slow physical therapy, and -- worst of all -- seemingly endless days of boredom and the occasional nights when he almost lost hope.
"Probably the toughest time was about two weeks before I got the notice that I would be released," Nelson recalled. "I was really going through a mopey period -- there were nights that all I could do was cry. But then the next morning I'd be up fighting in therapy again."
He and Heather also would watch "Wheel of Fortune" together every night, "but otherwise I've come to despise TV; I'm just so sick of it," Nelson said. He noted that the game show also was a daily habit for them at their southwest-side apartment, where they lived together for almost six years before the fire -- and where they will return.
"We like 'Wheel of Fortune' because it's a mindless game show," Nelson said. "The only other shows we like are on the Cartoon Network -- you know, 'The Flintstones' and 'Scooby Doo.' ''
Nelson said the last things he remembered after Amara poured a bucket-full of gasoline on him and lit it with a match are giving his mother's telephone number to hospital intake workers and telling attending doctors, "Please, I don't want to die," before slipping into unconsciousness until December.
Fittingly, the first thing he heard when he came out of the coma was a single word from Gallagher: "Hello."
Asked what got him through the tortuous recovery afterward, Nelson answered succinctly: "God -- that, plus Heather and probably my stubbornness."
After pausing to catch his breath, he added pointedly, "There is a song by Don Henley that says, 'Push me along because I will not go quietly.'"
A beaming Heather now attests to her fiancé's headstrong nature. "Oh yeah, he's stubborn all right," she said. "We both are – we're a lot alike. Whenever we get in an argument, neither of us will back down."
That prompted a question about how their injuries have affected their relationship.
"It's become stronger, if anything," Nelson answered, noting that they are scheduled to be married on Dec. 6 -- a year and a day later than they had originally planned.
Added Gallagher: "I guess it's pretty simple: We'll do what we always planned to do, just a year later."
The wedding will be held on a cruise ship in the Caribbean after six months of additional physical therapy, during which Nelson will concentrate on refining his motor skills and increasing the range of motion in his arms.
"My uncle, who has Down's (Syndrome), will stand up for me," he said, adding that he and Gallagher also hope to buy a condominium in Madison soon. "After that, I see a fairly normal life."
Gallagher has returned to her job at the state Laboratory of Hygiene, and Nelson will eventually do the same at Madison's Full Compass Systems, where he was the firm's retail director.
"They've been great," he said of his employer. Nelson and Gallagher also say they have been overwhelmed by the support of the community, which raised more than $200,000 in a benefit last summer and has been showering them with cards and gifts.
That support -- coupled with that of their new "best friends," the hospital's doctors, nurses and staff -- still follows them everywhere, they said.
Even when they make a once-a-week shopping trip, often at Hilldale Mall a few blocks from University Hospital, strangers still come up to them and offer to help.
"We can't go out without being stopped by people expressing their sorrow-- sometimes they even offer us money," Nelson said. "I can't believe the outpouring – people's prayers, people's gifts. The public has just been great."
Nelson and Gallagher are still bitter about Amara, who has admitted the attack and faces trial in July, primarily to determine whether he faces incarceration in prison or a mental health facility.
"I hope he burns in hell," Nelson said. "I think 156 years would be a good time in jail for him."
They refuse to get too mired down in such thoughts, however, and the conversation quickly returns to other topics.
Both, for example, would like to see more of the other people who were injured in the fire -- bus driver Gary Isom and passengers Ernestine Wittig and Rodney Scribner. Nelson has seen only Isom during his hospital stay.
"I really would like to meet the others," Nelson said. "But first I'd like to get settled in a little bit."
In the meantime, Nelson concluded, "I would just like to thank everyone who has been there for us through all this. And I'd just like to tell them that if we've learned anything, it's that you can come back from something like this. That's about it, but it's no small thing at all."