ABOUT
---
Chuck Nowlen In 540 Words
Pointedly missing: 'lazy,' 'follower,' 'perfect school attendance'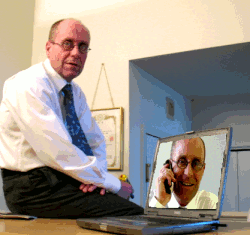 To replay, press ctrl+F5
When Chuck Nowlen was a kid, he was always skipping class to make magazines.
There was the one in second grade: a four-page homage to "Quick Draw McGraw" that earned him the ultimate – a sneak-attack kiss from Betsy Tessman across the aisle.
Then there was the 12-page Mad Magazine take-off, with a 50-copy press run in the school's office. He wrote all the stories and drew all the pictures, and it sold for a dime on the playground. After the one-kid sales staff and the office manager were paid off, he netted a grand total of $1.93.
Somewhere between rapture and obscene riches is where Chuck Nowlen will always be.
Hey, he's a journalist. And journalism isn't just what he does; it's who he is and who he has to be – whether he's working budget alchemy and managing a staff; winning top awards as a writer, reporter and editor; planning an interactive graphic or a multimedia package; designing and developing a website; or working out a market analysis for a promising new title.
It doesn't really matter what kind of journalism it is, either – alternative, consumer, business-to-business, investigative, promotional or service – as long as it's for an organization that truly wants to be the best it can be.
Nowlen sold his first magazine article – on the isolation unit at the nation's highest-security prison – to The Progressive while still an undergraduate at the University of Wisconsin-Madison.
He cut his professional teeth as a general assignment daily reporter in the Milwaukee Sentinel's state capital bureau, covering everything from government and labor strikes to agriculture and public safety.
He also has been a crime reporter and assistant city editor at Madison's venerable daily, The Capital Times, where he set the paper's all-time, one-year byline record and became the only unanimous choice for its reporter-of-the-year "Allegretti Award."
Nowlen went to Northwestern University's top-rated Medill School of Journalism, leaving while at the head of his class to become UW-Madison's chief public information specialist under the media-intensive chancellorship of former U.S. Health and Human Services Secretary Donna E. Shalala.
He later grabbed the managing editor spot at Madison Magazine, where he kept the trains moving on time and under budget, and won State Bar of Wisconsin "Gavel" awards for two investigative pieces – one on federal drug-seizure policies and another on racial inequities in county jury pools.
In late 2000, he moved to the top editor's chair at Las Vegas Weekly, leading the alternative weekly to its only "Maggie" Award for Best Consumer Tabloid and 15 Nevada Press Association first-place awards, including Best Large Weekly Newspaper and an individual honor for Best Editorial.
Digging deep into digital-media techniques, start-up business planning and newsroom-management consulting, he created CAN2 Media in 2006, boosted by the University of Minnesota's Part-Time MBA Program and St. Paul College's Web Design and Development Program.
Nowlen designed, coded and produced chucknowlen.com in 2010, and added a mobile version in early 2011. He also found the time to completely transform a national business-to-business monthly as interim editor and website content manager, while freelancing often for premier Twin Cities media groups.
He enjoys karate, jogging, weights and basketball, and lives with two supercats in downtown St. Paul.